DJ FOR WEDDING – YOUR BIG DAY
HOW TO RENT A DJ? (IN DANISH)
CERTIFIED WEDDINGS DJs – YOU WILL LOVE US!
Lej en DJ welcomes you to our wedding page. We understand how important the wedding party is, especially for you as the bride and groom, but also for your family, friends and others attending. The special day brings hours filled with beautiful, touching and festive moments. A DJ at a wedding is an obvious choice, since a talented DJ is capable of supporting the happy atmosphere. We tie the party together and enhance the memorable moments.
ENJOY THE PARTY WITH A WEDDING DJ
We are aware of our responsibility when delivering the music to the biggest day of your lives. Therefore, we make sure that everything is up to scratch to ensure your wedding lives up to all your expectations. In collaboration, we pick the music you both enjoy and listen to, and the music which makes your guests feel comfortable and cheerful.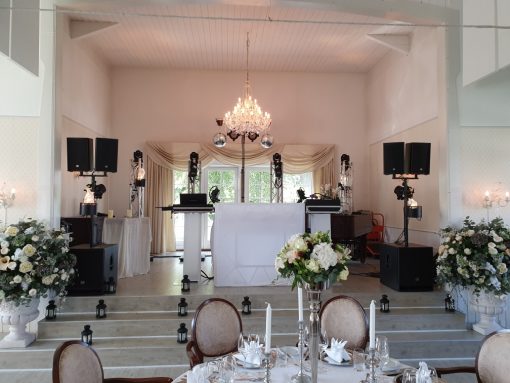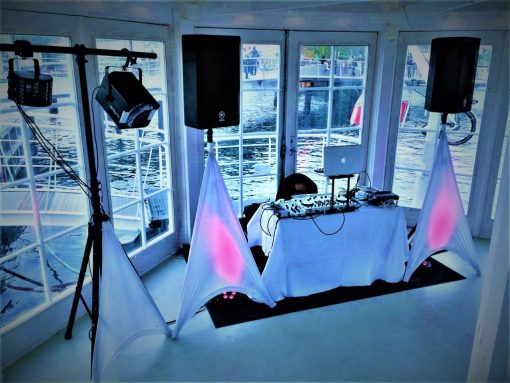 READ MORE ABOUT A DJ FOR YOUR WEDDING
DJ at a wedding: After having played at more than a 1000 wedding parties over the last couple of years, we recognize ourselves as weddings specialists. We acknowledge the fact that every single wedding is unique and recognise different details matter in regards to the perfect execution.

During the wedding dinner: Your wedding DJ arrives well in advance of the agreed commencing time, and ensure that all sound and lighting equipment are spot on. Our placement on the location is decided from the room's shape and the table setting. Normally we play dinner and lounge music during the dinner, which supports the upbeat atmosphere and encourages guests to engage in conversation. Naturally we pay attention to speeches and other features that may occur.

After the wedding dinner: When the last bite of food has been digested, your guests will have the opportunity to stretch their legs before moving into the more party orientated part of the celebration. In collaboration with you, we plan the ideal time for the wedding waltz to allow you to dance your lives' most romantic dance in the perfect setting. After the waltz, we turn up the volume and play all your favourite tunes combined with the best dancefloor classics.

Your wedding DJ: Your wedding DJ is carefully picked based on the details you present to us before the party. On the day of the party, we take the age span of your guests into consideration to establish a musical tone that will encourage guests to party together and not in separate age groups. Of course you are given the opportunity to talk to the DJ before the wedding party. This allow you to walk the DJ through your music preferences and other important details, which enables the DJ to proper prepare for the party.
HOW TO RENT A DJ? (IN DANISH)