HOW TO RENT A DJ? (IN DANISH)
EXPERIENCED LOUNGE DJ FOR YOUR RECEPTION

Our musical preparation is based on the type of reception/lounge event you are hosting. We regularly play at common receptions, jubilee celebrations, networking events, store openings, exhibitions and much more. Therefore, we recognize every event as unique and tailor the playlist to suit each individual celebration. We deliever exactly what you desire.
ENJOY THE RECEPTION – COZY VIBES!
We acknowledge the importance of a cozy, musical vibe for your reception, jubilee or store opening and the role it plays to the involved stakeholders. Therefore, the preliminary contact is extremely critical as it allows us to concretize and realise your visions of the event.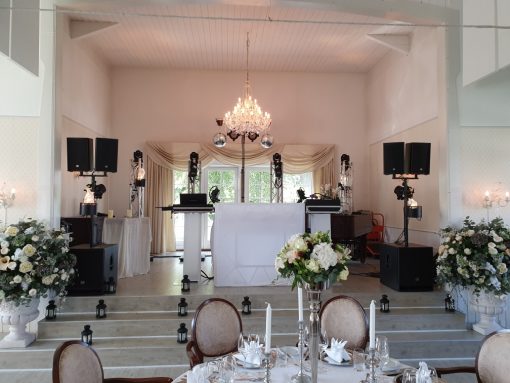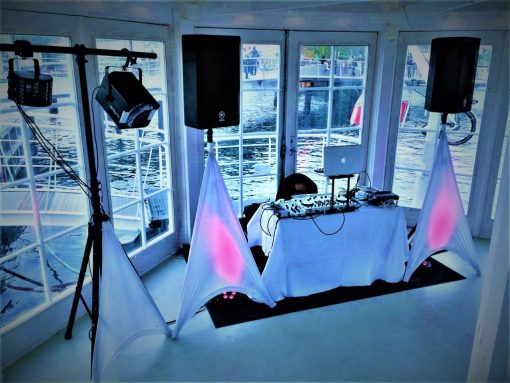 READ MORE ABOUT DJ FOR RECEPTION
Equipment and atmosphere: We arrive well in advance of the agreed commencing time and discreetly start setting up the speakers and supplementary lighting equipment. In most cases we bring lounging light (up-lights), which encapsulates the room's walls in a specific color. Lounge lighting is great at shaping a relaxed and calm atmosphere. The atmosphere is further supported by the music the DJ plays. The lighting effects and speakers are chosen to accommodate your preferences and if you for example need a microphone, we are able to provide one as well.
Music at a reception and lounge: We adjust and fine tune the music based on your expectations to the event and the thematically approach you have planned for the day. Music wise we typically play genres such as lounge, bossa nova and relaxed instrumental music at a more subtle sound level, to avoid the music becomes a disturbing element instead of a positive atmosphere creator. Your DJ is extremely aware of pausing the music during speeches, and is experienced in transition back from silence to music smoothly after the speech.
Music at a reception and lounge – In general: We acknowledge receptions and lounge events are more dynamic than traditional parties, in the sense that it is unusual to sit around dining tables for hours. Instead it is more common to stand or walk among the guests during the night. The music is therefore considered as a an icebreaker among the participating guests.
SÅDAN GØR VI HOS LEJ EN DJ